Register February 22nd, 2018 | Submit February 23nd, 2018 | FREE ARCHITECTURE COMPETITION
2018 BDA Prize
Charlottesville: Identity & Design
BRIEF
The 2018 BDA Prize [Charlottesville: Identity & Design] seeks proposals for a site-specific work of public art that will successfully embody the values and aspirations of a diverse community. We seek proposals from artists, architects, designers, and citizens that will offer ideas for an artistic, cultural, social, political, or ecological foundation that our community may build upon for the future.

SCHEDULE
Deadline: February 22nd, 2018
Closing date for online registration Midnight February 22nd, 2018
Posters must be received by 4pm EST February 23rd, 2018
Gallery exhibition of all entries March 2nd – May 7th, 2018
Announcement of winners and panel discussion April 10th, 2018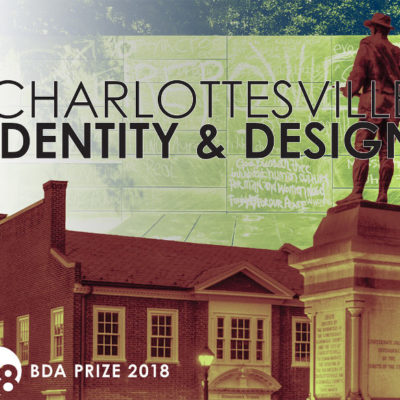 AWARDS
One Grand Prize Award US $5,000
Two Finalist Prizes US $1,000 (x 2)
One Community Choice Award US $1,000
Voting for the Community Choice Award will take place during the panel discussion at the Jefferson School.
FEES
FREE
JURY
Beth Meyer is a registered landscape architect, former Dean of the UVA School of Architecture, a member of the US Commission of Fine Arts, and founder of the UVA Center for Cultural Landscapes, a trans-disciplinary initiative focused on developing a vision of cities and countrysides as complex records of social and ecological processes and encounters.
Professor Meyer's biography (UVA School of Architecture)
Maurice Cox is Planning Director for the City of Detroit, an urban designer, and an architectural educator and has also served as mayor of the City of Charlottesville and NEA Director of Design. He is a former Loeb Fellow and taught at Tulane University, Syracuse University, and the University of Virginia.
Maurice Cox's biography (Cvillepedia)
Architect Magazine's recent article on Cox's vision for Detroit
Dr. Andrea Douglas is the executive director of the Jefferson School African American Heritage Center in Charlottesville, former Curator of Contemporary Art at the University of Virginia Art Museum, and a member of the City of Charlottesville's Blue Ribbon Commission on Race and Monuments. Her scholarship considers the cultural and social connections in the biographies of 20th and 21st century artists of the African Diaspora.
Dr. Douglas' Biography (Look3)
Brian Wimer is co-creator and Executive Director of the IX Art Park in Charlottesville, VA. He initiated Project Gait-Way for the Belmont Bridge Replacement. Wimer runs a film studio in Charlottesville and has written, directed and produced twelve feature films including CLAW (the Coalition of Lady Arm Wrestlers) and Charlottesville: Our Streets.
Brian Wimer's Biography (IX Art Park)
Dr. Scot A. French is a historian of cultural landscapes and sites of memory associated with African American and Southern history. He has conducted extensive research on black community life in Charlottesville and produced an award-winning film about the demolition of Vinegar Hill, That World is Gone: Race and Displacement in a Southern Town (Audience Favorite, Best Short Documentary, Virginia Film Festival, 2010). He is an Associate Professor of History, Director of Public History, and Interim Co-Director of the Center for Humanities and Digital Research at the University of Central Florida.
Dr. French's Biography (scotfrench.com)
Moderator
The moderator will oversee the panel discussion after awards are deliberated at the Jefferson School in April.
John Grisham is a bestselling author, attorney, activist, and longtime Charlottesville resident. In addition to writing critically acclaimed novels such as The Pelican Brief and A Time to Kill, Grisham is a member of the board of directors of the Innocence Project, campaigning to free and exonerate unjustly convicted people on the basis of DNA evidence.
John Grisham's Biography (jgrisham.com)
Grisham's 2011 interview with The Guardian
WEBSITE
http://bdaprize.bdarchitects.com/